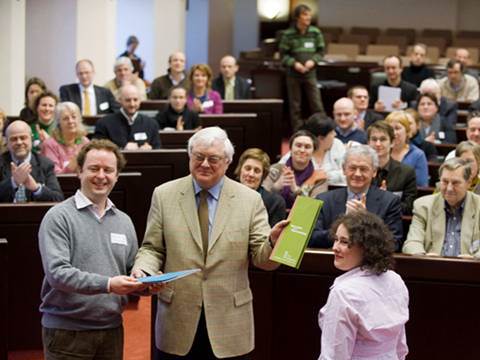 Good Practice: Internationally proven method that allows citizens to discuss a plan with experts and provide their opinion and policy recommendations in a report.
Type: ONDRAF/NIRAS, the Belgian public Agency for Radioactive Waste and Enriched Fissile materials, asked the King Baudouin Foundation (KBF), an independent public benefit foundation, to organize a consultation process before the legal SEA-related consultation of the Waste Plan on the long-term management of high-level and/or long-lived radioactive waste in Belgium. The consultation process was funded by ONDRAF/NIRAS but organised in complete independence by the KBF and externally evaluated (legitimacy criteria) by researchers from the Universities of Liège and Louvain-la-Neuve. The KBF has chosen for a citizens' conference. KBF has experience with complex technical issues with societal relationships and with bridging the gap between the experts and the public at large. 
Working language(s): Dutch and French
Start: 2009
Duration: 4 months
Target group(s): 
32 randomly selected citizens (from database of 6500 persons), representing the population's diversity (gender, age, education level, mother tongue, urban/rural, motivation)
No statistical representativeness (no opinion poll)
Budget and funding sources: 300.000 EUR funded by ONDRAF/NIRAS

Partner organizations involved: King Baudouin Foundation, and accompanying staff

Stakeholders involved: General public. Participation was not limited to a specific local community.
The 32 participants were directly involved in shaping the initiative (choosing the topics, selecting  the experts, writing the final report,…). In particular, the participants could choose the 17 experts they interviewed, e.g. university graduates (nuclear sciences, sociology, ethics,…), civil servants (Nuclear Control Agency,…), member of Parliament, NGOs (Greenpeace,…), representatives of waste management agencies (BE, NL), research centres, waste producers. ONDRAF/NIRAS had no direct relationship with the citizens. ONDRAF/NIRAS was also one of the experts invited to present its case.
MAIN OBJECTIVES OF THE INITIATIVE
Involve citizens early in the process to identify their concerns and consequently increase trust in the decision-making process. Assist ONDRAF/NIRAS to set up a Draft Waste Plan and prepare SEA that addresses citizens' concerns. Test and challenge argumentation.
METHODOLOGY
Citizen's conference:
Method of public deliberation by laymen (interaction with experts)
Often on scientific/technological topics with strong social/ethical dimension: Participatory Technology Assessment (PTA)
Developed by Danish Board of Technology (parliamentary institution)
Applied in many countries (the Netherlands, Switzerland, UK, Belgium, France, South-Korea, Japan, Australia, Canada,…), strictly formatted method, but with an open-ended outcome
Citizens are in the driving seat: they define discussion topics ("framing of the issue"), select experts, write report with recommendations
It is consensus-driven, but allows minority views
Information brochure (available on www.kbs-frb.be) for participants with texts validated by group of experts, in a highly accessible language with lots of illustrations, as well as facts and figures and scientific/technological, legal, ethical issues.
RESULTS AND EVALUATION OF THE INITIATIVE
Results:
Support to ONDRAF/NIRAS' proposal for the management of high-level and/or long-lived waste;
Conditions for implementation: reversibility, control and transfer of knowledge;
Recommendations for governance: availability of funds, follow up by independent committee, etc.;
Well balanced and argumented report (available in full at www.kbs-frb.be).
Strengths, good practices and lessons learned:
Open-ended and highly visible public process
Participants became knowledgeable about the issue
Not all experts have the skills to interact with laymen
Deliberation process transforms highly diverse initial opinions of participants into broadly accepted "common ground"
Final report with substantive, well-argued recommendations
Independent process guardian (KBF) to make the process acceptable for all stakeholders and to build trust between ONDRAF/NIRAS – experts – participants – media
Importance of communication to media and stakeholders before the start of the process
Some frictions with one official advisory body in the SEA legal consultation (legitimacy issue)
Objective media coverage (focusing on the recommendations rather than on the process) with one exception (one year later)
Conditions for successful replication of the initiative's strengths and good practices:
Independent process guardian (KBF) to make the process acceptable for all stakeholders and to build trust between ONDRAF/NIRAS – experts – participants – media
Complete independence in choice of participative process
External evaluation (legitimacy criteria)
Weaknesses and risks:
Risks: The KBF could organize a consultation process in complete independence. The KBF has chosen for a citizen's conference, an open-ended and highly visible public process. The outcome of the process was totally uncertain for ONDRAF/NIRAS. This risk is also a strength for the process.
Problems/challenges encountered: Appropriation of a complex, rather conceptual issue by citizens.
How the problems/challenges were overcome, and if not, possible suggestions for how they might be overcome in future cases:
Large spectrum of experts interviewed
Brochure that provided the basic concepts
Key role of KBF "accompanying" persons
Country/countries, region:
Resource convention articles:
Date published:
25-07-2018