GOOD PRACTICE:
English (French version below)

CONSULTATION AND ENGAGEMENT: Canada's National Pollutant Release Inventory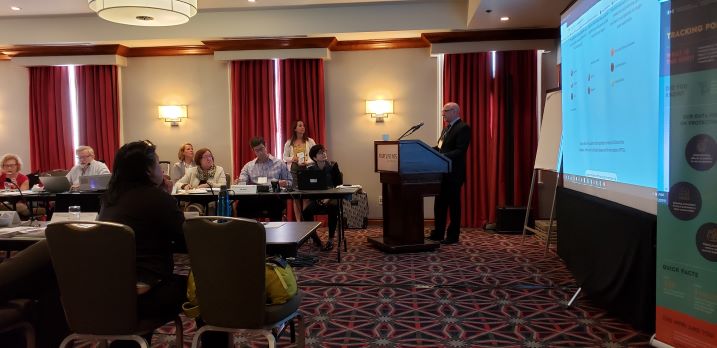 Over the past 27 years, the NPRI has worked closely with stakeholders to achieve its mandate of identifying and acting on environmental priorities and helping Canadians understand pollutant releases in their communities. The NPRI is continuously looking to expand and meet the needs of its users. The NPRI's consultation and engagement process can be considered to be a success.
Type: County level 
Working language(s): French, English
Start: 1993
Duration: Ongoing
Target group(s): The National Pollutant Release Inventory (NPRI) Multi-stakeholder Work Group consists of up to 20 members, each of whom represents one or more organizations. The final list of members aims to be proportional, based on the stakeholder category they represent (i.e., 50% representatives from the reporting community, 40% environmental non-governmental organizations (NGOs), 10% indigenous organizations). A list of observers is also maintained by the NPRI.
Budget and funding sources: Funding is made available by Environment and Climate Change Canada (ECCC).
Funding for specific deliverables, such as studies, may be made available by ECCC if required to further efforts of the NPRI Multi-stakeholder Work Group.
Partner organizations involved: No.
Stakeholders involved: 
Members of the NPRI Multi-stakeholder Work Group come from the following groups:
• Representatives of the reporting community, such as industry associations;
• Environmental or other NGOs; and
• Indigenous governments and organizations.
The NPRI Multi-stakeholder Work Group member's key role is to communicate issues raised by their constituents. Members of the NPRI Multi-stakeholder Work Group will be expected to be prepared for meetings, make every effort to ensure that the views that they express reflect those of their constituency, and ensure their NPRI Multi-stakeholder Work Group's status and contact information is kept up to date. It is also expected that they will communicate the fact of their participation, the positions they will be taking on various issues, and the outcomes of the NPRI Multi-stakeholder Work Group to the members of their respective constituencies. Members may bring issues to the table using the agenda development process.
A list of observers is maintained by ECCC. Observers receive communications sent to the NPRI Multi-stakeholder Work Group and they are welcome to attend its teleconferences.
Other government representatives may have interest in NPRI matters and may participate in NPRI Multi-stakeholder Work Group meetings.
MAIN OBJECTIVES OF THE INITIATIVE
The Government of Canada's NPRI exchanges information and ideas with stakeholders and the public. This sharing is designed to: 
• Learn what data NPRI users need;
• Seek stakeholder advice on changes to NPRI reporting requirements;
• Work with other government programs and international organizations; and
• Update stakeholders on changes to the NPRI.
The NPRI Multi-stakeholder Work Group has been gathering input from stakeholders and advising the Government of Canada since the NPRI was created in 1993. Consultation follows a published process for proposing and considering changes.
The NPRI Multi-stakeholder Work Group is a venue for information and idea exchanges between the Government of Canada and stakeholders. Its mandate is to provide input and recommendations on issues relevant to the NPRI from a stakeholder perspective. Issues may include modifications to the NPRI substance list and reporting criteria, identifying and resolving data gaps, improving public access to and interpretation of pollutant data, and improving data quality. The NPRI Multi-stakeholder Work Group is also intended to provide stakeholders with information on activities of the NPRI which may be shared with their constituencies or members.
It is key to note that the NPRI Multi-stakeholder Work Group is not a decision-making body. However, ECCC is considering its input and recommendations in making final decisions related to the NPRI.
METHODOLOGY
ECCC chairs the NPRI Multi-stakeholder Work Group and provides secretariat support. The Chair of the NPRI Multi-stakeholder Work Group manages the meetings, fosters an environment for productive discussions, manages conflict if necessary, and steers the meeting towards productive results.
The NPRI Multi-stakeholder Work Group's secretariat functions as the main point of contact for members. This includes planning meetings, arranging logistics, providing input mechanisms for members' comments, ensuring that members receive meeting materials as far in advance as possible (with a guideline of three weeks), drafting and circulating meeting summaries, managing membership, and ensuring the regular review of its terms of reference.
There is a minimum of two teleconference meetings a year, and an objective to meet face-to-face every two years. Additional teleconferences, face-to-face meetings and email exchanges can be used as needed.
Background materials, provided in both official languages, are required at the beginning of the consultative process for a particular issue to allow for productive discussions, and will generally be the responsibility of the organization or person that provides the request for change. ECCC and other NPRI Multi-stakeholder Work Group's members may assist with the development of such source materials in certain cases.
ECCC and the NPRI Multi-stakeholder Work Group may decide to form sub-groups to assist with complex issues where there is a need for technical advice and support. Sub-groups must have clearly defined objectives, timelines and specific deliverables, defined within their terms of reference, to ensure the most efficient use of resources. Sub-group participants will be drawn from NPRI Multi-stakeholder Work Group's members and alternates. Additional participants may be invited to participate in the sub-groups, based on the needs and issues tabled. Sub-group membership should be balanced among the various stakeholder categories.
RESULTS AND EVALUATION OF THE INITIATIVE
Results:
Stakeholders are engaged on proposed changes to the NPRI. They provide initial input during the early engagement phase and they submit formal comments during the public consultation period. All comments received are considered as part of ECCC's decision-making process.
Strengths, good practices and lessons learned:
• Early discussions may take place with stakeholders prior to ECCC developing a consultation document. This ensures that initial questions, concerns and information are addressed in the formal consultation document.
• Formal written comment submissions from stakeholders provide a transparent record of the comments received and considered.
• A broad selection of industry association representatives are consulted simultaneously.
• An ongoing/multi-year NPRI Multi-stakeholder Work Group improves the familiarity with the NPRI amongst the stakeholders (i.e., with time, participants are more aware of the nature and complexities of a program such as the NPRI).
Conditions for successful replication of the initiative's strengths and good practices:
• Develop a multi-phased consultation approach which includes early engagement and formal consultation periods.
• Ensure the proper documentation of comments received with validation from the participants.
• Engage participants in a long-term, regularly occuring discussion, rather than a one-time consultation.
Weaknesses and risks:
• Since it is often the same participants being engaged, the views and opinions may not be representative of the larger population.
• Not all sectors or types of data users are represented on the NPRI Multi-stakeholder Work Group.
• As there are no term limits to NPRI Multi-stakeholder Work Group's membership, there is a risk that ideas be redundant and that there is no renewed vision within the team.
Problems/challenges encountered:
It is challenging to find participants with knowledge of the NPRI. Additionally, members must be willing to dedicate their time and resources for the consultation process and the meetings of the NPRI Multi-stakeholder Work Group.
How the problems/challenges were overcome, and if not, possible suggestions for how they might be overcome in future cases:
In order to attract more members to the NPRI Multi-stakeholder Work Group, the NPRI could provide information sessions on the program.
Unresolved issues: No.
BONNE PRATIQUE: 
CONSULTATION ET MOBILISATION : INVENTAIRE NATIONAL DES REJETS DE POLLUANTS
Au cours des 27 dernières années, l'INRP a travaillé en étroite collaboration avec les intervenants pour réaliser son mandat, qui consiste à déterminer les priorités environnementales et à prendre des mesures à cet égard, tout en améliorant la compréhension des Canadiens au sujet des polluants qui sont rejetés dans leurs collectivités. L'INRP cherche continuellement à prendre de l'expansion et à répondre aux besoins de ses utilisateurs. Dans l'ensemble, le Canada considère que le processus de consultation et de mobilisation de l'INRP est une réussite.
Type: Gouvernemental
Working language(s): Français et anglais
Départ: 1993
Durée : En cours
Groupe(s) cible: Le groupe de travail multilatéral de l'Inventaire national des rejets de polluants (INRP) est formé d'un maximum de 20 membres, dont chacun représente une ou plusieurs organisations. La liste finale des membres doit être proportionnelle, en fonction de la catégorie d'intervenants qu'ils représentent (c'est‑à‑dire, 50 % sont des représentants de la communauté des déclarants, 40 %, des organisations environnementales et autres organismes non gouvernementaux [ONG]), 10 %, des organisations autochtones). Une liste d'observateurs sera tenue à jour par l'INRP.
Budget et source(s) de financement : Le financement est assuré par Environnement et Changement climatique Canada (ECCC).
Le financement pour des produits livrables précis, comme les études, peut être offert par ECCC, au besoin, pour approfondir les efforts du groupe de travail multilatéral de l'INRP.
Organisations partenaires impliquées : Aucune.
Parties prenantes impliquées: 
Les membres du groupe de travail multilatéral de l'INRP proviennent des groupes suivants :
• représentants de la communauté des déclarants, comme des associations industrielles;
• organisations environnementales et autres ONG;
• organisations et gouvernements autochtones.
Le rôle principal des membres du groupe de travail multilatéral de l'INRP est de communiquer les questions soulevées par leurs clients. Les membres du groupe de travail multilatéral de l'INRP doivent se préparer pour les réunions, faire de leur mieux pour assurer que les opinions qu'ils expriment représentent celles de leur clientèle et veiller à ce que leur statut au sein du groupe de travail ainsi que leurs coordonnées soit tenu à jour. Ils doivent aussi communiquer leur participation, la position qu'ils prendront concernant diverses questions et les résultats du groupe de travail à leurs clients respectifs. Les membres peuvent proposer des sujets de discussion dans le cadre du processus d'élaboration de l'ordre du jour.
Une liste d'observateurs sera tenue à jour par ECCC. Les observateurs reçoivent les communications envoyées au groupe de travail multilatéral de l'INRP et sont invités à assister aux téléconférences du groupe.
D'autres représentants du gouvernement peuvent porter un intérêt face aux enjeux du programme et donc participer aux réunions du groupe de travail multilatéral de l'INRP.
OBJECTIFS DE L'INTIATIVE
L'INRP du Gouvernement du Canada permet l'échange d'information et d'idées avec les intervenants et le public dans les buts suivants :
• connaître les besoins des utilisateurs de l'INRP;
• obtenir l'avis des intervenants sur les modifications aux exigences de déclaration de l'INRP;
• collaborer avec d'autres programmes gouvernementaux et des organisations internationales;
• tenir les intervenants informés des changements à l'INRP.
Le groupe de travail multilatéral de l'INRP recueille les avis des intervenants et conseille le gouvernement du Canada depuis la création du programme en 1993. La consultation se tient selon le processus établi pour proposer et évaluer des modifications.
Le groupe de travail multilatéral de l'INRP constitue un forum pour l'échange d'information et d'idées entre le gouvernement et les intervenants. Il a pour mandat de formuler des commentaires et des recommandations concernant des questions se rapportant à l'INRP du point de vue des intervenants. Ces questions peuvent inclure : les modifications apportées à la liste des substances et aux critères de déclaration de l'INRP, l'identification et la résolution des lacunes dans les données, l'optimisation de l'accès du public aux données sur les polluants y compris de l'interprétation qu'il en fait et l'amélioration de la qualité des données. Le groupe de travail multilatéral de l'INRP a également pour objectif de présenter aux intervenants des renseignements sur les activités de l'INRP qu'ils peuvent ensuite communiquer à leurs membres ou clients.
Il est important de noter que le groupe de travail multilatéral de l'INRP n'est pas un organisme décisionnel. Toutefois, ECCC prend en considération tous les commentaires et toutes les recommandations formulées par le groupe lorsqu'il prend une décision finale.
MÉTHODOLOGIE
ECCC préside le groupe de travail multilatéral de l'INRP et assure le service de secrétariat. Le président du groupe de travail dirige les réunions, favorise un contexte de discussions productives, règle les conflits au besoin et oriente la réunion pour obtenir des résultats fructueux.
Le secrétariat du groupe de travail multilatéral de l'INRP sert de point de contact principal pour les membres. Il planifie les réunions, s'occupe de la logistique, met en place des moyens pour que les membres présentent leurs commentaires, veille à ce que les membres reçoivent les documents de réunion le plus tôt possible avant la réunion (selon une norme de trois semaines), rédige et communique les résumés des réunions, gère la liste des membres et veille à l'examen régulier du mandat.
Il y a un minimum annuel de deux réunions par téléconférence et un objectif de rencontre en personne tous les deux ans. Au besoin, des téléconférences, des communications par courriels et des réunions supplémentaires en personne peuvent être organisées.
Les documents de référence doivent être fournis dans les deux langues officielles au début du processus de consultation au sujet d'une question particulière, afin de permettre des discussions éclairées. Généralement, les documents de références doivent être communiqués par l'organisation ou la personne qui présente la demande de changement. Dans certains cas, ECCC et d'autres membres du groupe de travail multilatéral de l'INRP peuvent aussi participer à l'élaboration de ces documents.
ECCC et le groupe de travail multilatéral de l'INRP peuvent décider de former des sous-groupes qui aideront aux questions complexes pour lesquelles des avis et de l'aide techniques sont nécessaires. Les sous-groupes doivent avoir des objectifs clairement définis, des échéanciers et des livrables précis, établis dans leurs mandats pour assurer l'utilisation la plus efficace des ressources. Les participants d'un sous-groupe sont choisis parmi les membres du groupe de travail multilatéral de l'INRP et leurs remplaçants. D'autres participants sont invités à se joindre aux sous-groupes, selon les besoins et les questions présentées. Les membres du sous-groupe doivent représenter proportionnellement toutes les catégories d'intervenants.
RÉSULTATS ET ÉVALUATION DE L'INITIATIVE
Résultats:
Les intervenants participent à l'évaluation des changements proposés à l'INRP. Ils formulent leurs premiers commentaires au cours de la phase de mobilisation initiale et soumettent des commentaires officiels pendant la période de consultation publique. Tous les commentaires reçus sont pris en compte dans le processus décisionnel d'ECCC.
Forces, bonnes pratiques et leçons apprises
• Des discussions préliminaires peuvent avoir lieu avec les intervenants avant qu'ECCC élabore un document de consultation. Cela permet d'assurer que les questions, les préoccupations et les renseignements initiaux sont abordés dans le document de consultation officiel.
• La présentation écrite des commentaires officiels de la part des intervenants et de ceux ayant été appliqués permet de fournir un registre transparent.
• Une vaste sélection de représentants des associations industrielles sont consultés simultanément.
• L'établissement d'un groupe de travail multilatéral de l'INRP permanent ou pluriannuel donne l'occasion aux membres de se familiariser avec l'INRP (au fil du temps, les participants sont plus conscients de la nature et de la complexité de l'INRP).
Conditions pour une réplication réussie des forces et des bonnes pratiques de l'initiative:
• Élaborer une approche de consultation en plusieurs étapes qui comprend une mobilisation précoce et des périodes de consultation officielles.
• Veiller à la documentation adéquate des commentaires reçus et à la validation par les participants.
• Inviter les participants à prendre part à une discussion à long terme et régulière, plutôt qu'à une consultation ponctuelle.
Faiblesses et risques:
• Comme ce sont souvent les mêmes participants qui sont mobilisés, les points de vue et les opinions ne sont peut‑être pas représentatifs de l'ensemble de la population.
• Le groupe de travail multilatéral de l'INRP ne représente pas tous les secteurs ou types d'utilisateurs de données.
• Comme il n'y a aucune limite à la durée du mandat des membres du groupe de travail multilatéral de l'INRP, il y a un risque que les idées soient redondantes et qu'il n'y ait pas de vision renouvelée au sein de l'équipe.
Problèmes / Défis rencontrés :
Il est difficile de trouver des participants qui connaissent l'INRP. De plus, les membres doivent être disposés à consacrer leur temps et leurs ressources au processus de consultation et aux réunions du groupe de travail multilatéral de l'INRP.
Comment les problèmes / Défis ont été surmontés, et si non, des suggestions possibles sur la façon dont ils pourraient être surmontés dans les cas futurs:
L'INRP pourrait offrir des séances d'information en vue de recruter d'autres membres dans le groupe de travail multilatéral de l'INRP.
Questions non résolues: Aucune.
Country/countries, region:
Resource convention articles:
Date published:
13-10-2020